Technical Mountaineering Package
The ultimate hybrid axe for technical couloirs and rugged alpine terrain, the Black Diamond Venom bridges the gap between classic piolet and technical ice tool. The curved upper shaft provides added clearance during technical ice and snow sections, while the traditional spike makes for smooth plunging on the uphill. The dual-density grip and included Lockdown Leash increase security when things get dicey.
Black Diamond's best all-around crampon, the Sabretooth features a lightweight stainless steel design. Equally at home on Denali as climbing in Ouray, the Sabretooth features horizontal frontpoints to provide stability in snow, penetrate alpine ice, run up waterfall ice and hold rock edges securely. The secondary points create a stable platform with shear resistance for control in mushy conditions; serrated sub-points grab and hold when you're rocking over your feet.
The Climbing Helmet With its strong chinstrap, the Vertex Vent Climbing Helmet sets the standard in head protection for climbers and workers at height. It has ventilation holes with sliding shutters to allow the ventilation to be adjusted as needed.
We strongly recommend that you book delivery at least 2 working days before you depart if you are travelling away from home.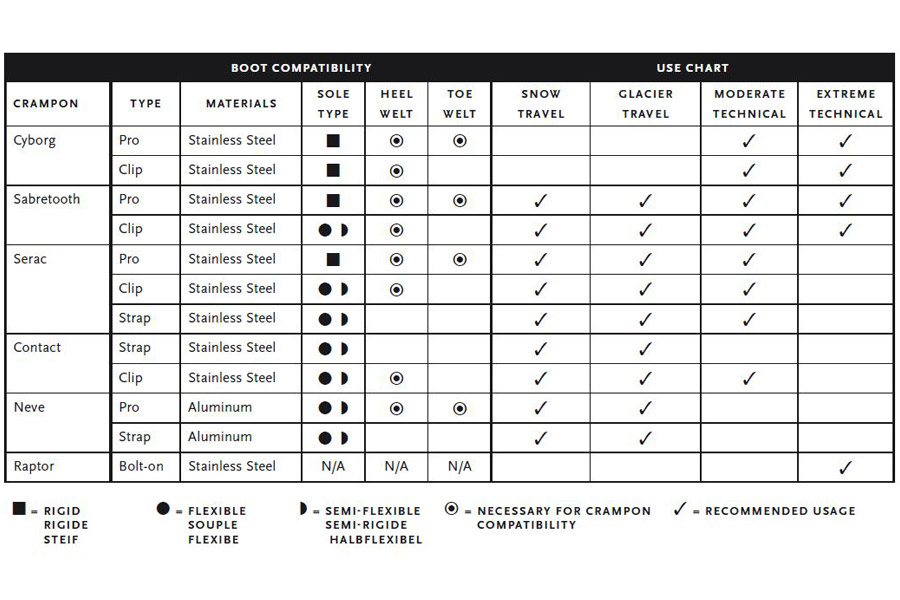 The hire package consists of one pair of Sabretooth 12 Point Crampons, one Venom Ice Axe - Adze, one Venom Ice Axe - Hammer and one Climbing Helmet. Black Diamond Lockdown leashes included. We may substitute one or all of the items with equivalent items by other manufacturers at our discretion.
Specifications - Crampons
Weight per pair: 968 g
Boot Size: Euro 36 to 46
No. of Points: 12
Material: Stainless steel
Specifications - Ice Axe
Head, Hammer / Adze: Stainless Steel
Pick: Chromoly steel
Shaft: Aluminum
Grip: Dual-density
Weight with Leash: 528 g (Hammer 50Cm)
Specifications - Helmet
Weight: 445 g
Fits: One-size-fits-all - 53-63 cm
Material - Shell: Injection moulded polycarbonate
Material - Straps: Polyester webbing