Black Diamond Serac Crampons
The Black Diamond Serac is a versatile 12-point crampon for alpine climbing featuring our lightweight stainless steel design.
Designed for moderate technical terrain, the Serac has strong frontpoints that climb steep snow efficiently and penetrate ice with ease. The substantial secondary points are optimized for stability.
Its stainless steel construction won't rust and avoids environmentally toxic coatings that wear off in the mountains.
Distinctive stainless steel construction doesn't rust, is more durable, resists snow balling and saves weight.
Versatile horizontal frontpoints and more stable secondary points.
Low-profile micro-adjust heel bail with two positions.
Strap version is for use with all types of good sturdy boots.
Includes dual-density ABS Anti-Balling Plates.
If your boots to fit the crampons are larger than size UK10.5, please let us know as will need to send extension bars.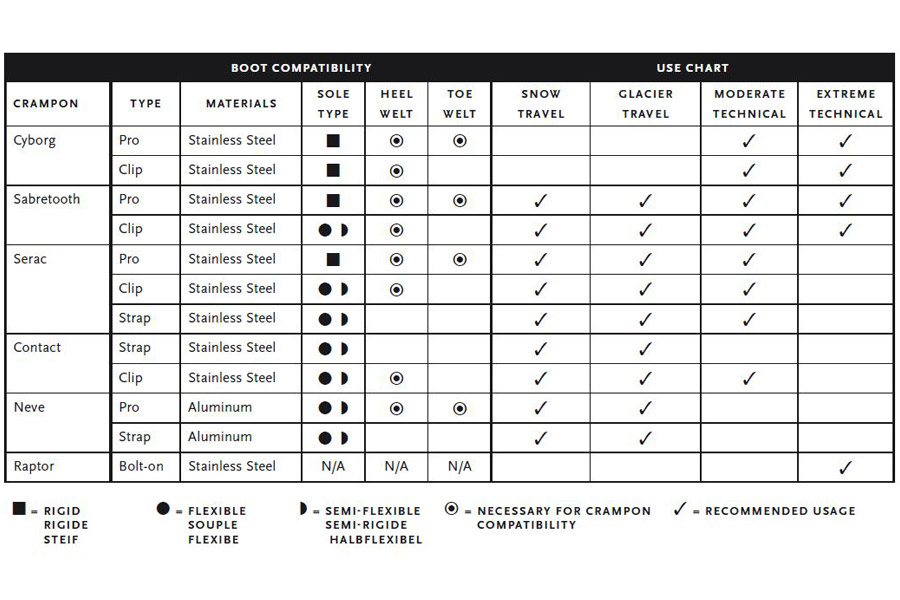 We strongly recommend that you book delivery at least 2 working days before you depart if you are travelling away from home.
What to use Black Diamond Serac 12 Point Crampons for:
Ideal For: B1, B2 Boots. Snow & Glacier travel & Moderate technical.
Good For: B3 Boots
The hire package consists of one pair of Black Diamond Serac Crampons or equivalent 12 Point crampons.
Specifications
| | |
| --- | --- |
| Material: | Stainless steel |
| Weight Per Pair: | 968g |
| Details: | Serac Strap includes Flex Center Bar for use with softer-soled boots. |
| Datasheet: | Black Diamond Datasheet |