Black Diamond Sabertooth Crampons
Black Diamond's best all-around crampon, the Sabretooth features a lightweight stainless steel design. Equally at home on Denali as climbing in Ouray, the Sabretooth features horizontal frontpoints to provide stability in snow, penetrate alpine ice, run up waterfall ice and hold rock edges securely. The secondary points create a stable platform with shear resistance for control in mushy conditions; serrated sub-points grab and hold when you're rocking over your feet. Its stainless steel construction won't rust and avoids environmentally toxic coatings that wear off in the mountains.
Distinctive stainless steel construction doesn't rust, is more durable, resists snow balling and saves weight.
Versatile horizontal frontpoints and more technical secondary points.
Low-profile micro-adjust heel bail with two positions
Clip version features flexible toe strap for boots without a toe welt.
If your boots to fit the crampons are larger than size UK10.5, please let us know as will need to send extension bars.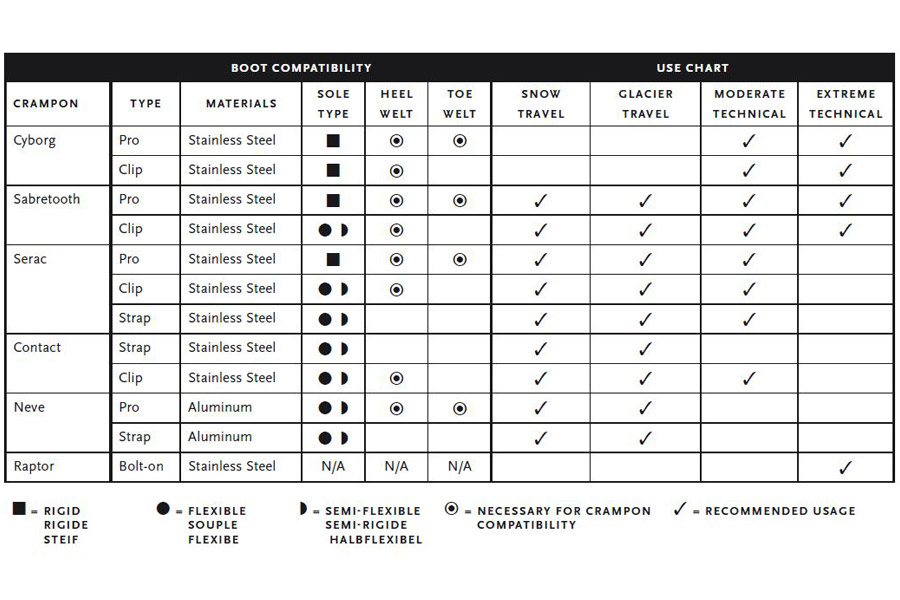 We strongly recommend that you book delivery at least 2 working days before you depart if you are travelling away from home.
What to use Black Diamond Sabretooth 12 Point Crampons for:
Ideal For: B2, B3 Boots. Snow & Glacier travel & Moderate & Extreme technical.
Not For: B1 Boots
The hire package consists of one pair of Black Diamond Sabertooth Crampons or equivalent 12 Point crampons.
Specifications