A technical, all-terrain tool, the Black Diamond Viper makes the perfect daily driver for ice and alpine climbing. The Viper is built with a hydroformed shaft to increase stiffness and reduce weight, while maintaining exceptional clearance and balance.
The Black Diamond Cyborg is a high-end ice and mixed climbing crampon with a lightweight stainless steel design. Optimized for steep waterfall ice, mixed climbing or hard mountain routes, the Cyborg's semi-rigid design offers maximum control for precise placement with minimal weight. Used in mono- or dual-point configuration, the modular, hooded vertical frontpoints perform flawlessly on everything from tiny rock edges to thin ice smears.
We strongly recommend that you book delivery at least 2 working days before you depart if you are travelling away from home.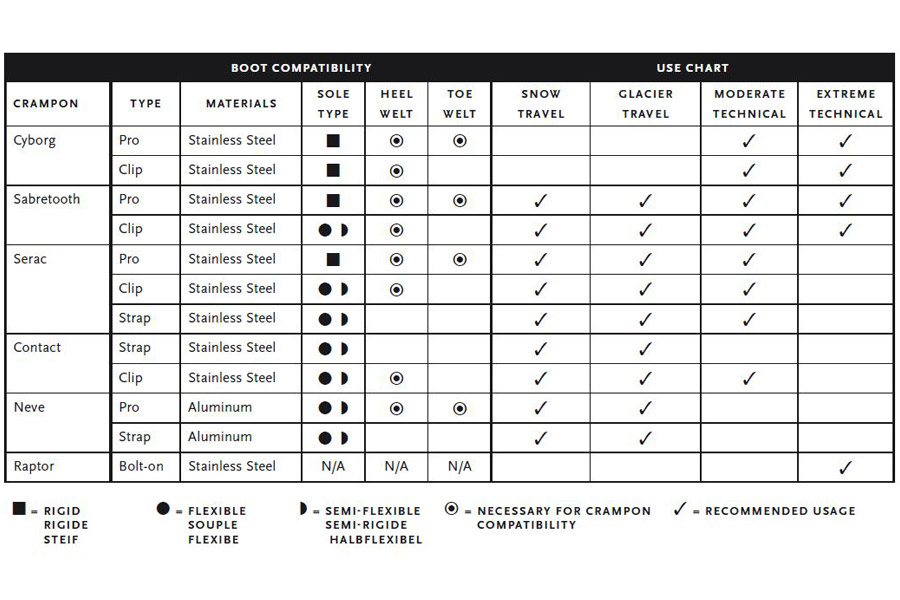 This Ice Climbing Package consists of Black Diamond Ice Climbing Tools, Viper Ice Tool with Adze and Cyborg 12 Point Crampons. The Viper Ice Climbing Tools come with Black Diamond Lockdown Ice Axe leashes. We may substitute one or all of the items with equivalent items by other manufacturers at our discretion.
Specifications - Crampons
Weight per pair: 1120 g
Boot Size: Euro 36 to 46
No. of Points: 12
Material: Stainless steel
Specifications - Ice Axe & Hammer
Head, Hammer / Adze: Stainless Steel
Pick: Chromoly steel
Shaft: Aluminum
Grip: TPU
Weight with Adze: 655 g
Weight with Hammer: 625 g